Washington LTE Two-Way Radio Coverage
Diga-Talk+ is proud to offer 4G LTE push-to-talk two-way radio coverage throughout Washington and the Pacific Northwest and nationally on our push-to-talk over cellular (PoC) network. We offer unmatched competitively priced two-way digital communication services, devices, and walkie-talkies with nationwide coverage, including in-stock mobile, portable, and FirstNet Ready™ devices.
Diga-Talk+ helps businesses save money and improve operations by leveraging state-of-the-art two-way communications services. Typically, our customers are price sensitive. They are looking for low start-up costs and reasonable monthly operating costs. They are also looking for a larger coverage area than they might find with traditional two-way radio systems.
Some of the industries that have found our service useful include: Ambulance Services, Construction, Education, Healthcare, School Buses, Towing Companies, Transportation, and Waste Management. Please click here to see our industry solutions page.
As you may know, our 4G LTE service is nationwide, but the majority of our customers think of us as a local or regional service. They just don't have a need for nationwide coverage, but still, it is nice to have it available. We support business owners throughout Washington state and the surrounding states. In Washington, our service area includes but is not limited to the following towns and cities.
The DTP-9751 portable and DPT-8051 mobile radios are ready for use on FirstNet. They have met the standards for supporting the critical operational needs of public safety agencies and users who need tools that are highly secure, resilient, scalable, and available when needed!
The Diga-Talk+ 9751 boasts an upgraded module for improved audio quality and a connective experience. The Diga-Talk+ 8051 mobile radio has a powerful 5-watt speaker, onboard noise canceling, and a 5" touchscreen.
The DTP-8051 is the newest FirstNet-certified addition to the Diga-Talk+ offering. This mobile two-way radio has a 5.0 inch anti-glare touchscreen
For those users who have limited mounting options or simply want a smaller, more discreet radio, the DTP-8700 mobile is the right choice.
The Diga-Talk+ 8900 is our most popular in-vehicle mobile two-way radio model. It has a larger, brighter screen and has a more durable build.
The DTP 9750 is the workhorse of the Diga-Talk+ product line. Leveraging the power of LTE you get private/group calling, on-device recording and playback, GPS tracking, and over-the-air programming.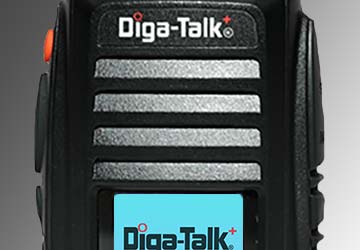 Built on the proven DTP 9750 platform, the radio boasts an upgraded module for an improved audio and connectivity. The DTP 9751 is FirstNet Ready, and is certified for extended primary users.
The Diga-Talk+ 9850 portable radio is the radio that users consistently compare to a "traditional" two-way device. It is larger, heavier, and more durable than the Diga-Talk+ 9750.