Are you looking for an affordable way to communicate locally, statewide, and nationally with your mobile workforce? Diga-Talk+ offers unmatched competitively priced two-way digital communication services and devices with nationwide coverage, including in-stock portable two-way radios and walkie-talkies. We also offer FirstNet Ready™ devices on our network. 
The DTP 9750 is the workhorse of the Diga-Talk+ product line. Leveraging the power of LTE you get private/group calling, on-device recording and playback, GPS tracking, and over-the-air programming.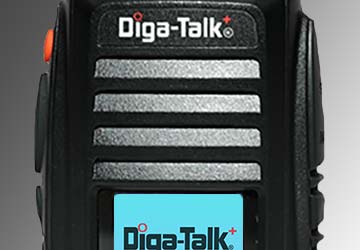 Built on the proven DTP 9750 platform, the radio boasts an upgraded module for an improved audio and connectivity. The DTP 9751 is FirstNet Ready, and is certified for extended primary users.
The Diga-Talk+ 9850 portable radio is the radio that users consistently compare to a "traditional" two-way device. It is larger, heavier, and more durable than the Diga-Talk+ 9750.
Request a Diga-Talk+ Demo
Diga-Talk+ works with a large network of dealers throughout the country.
Schedule a demo of Diga-Talk+ with one of our local dealers.